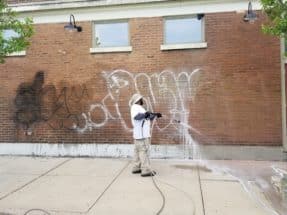 Donate to Brightside St. Louis
As a not-for-profit organization, we count on donations to help clean and green St. Louis.  For the month of June, we have a special focus on raising funds to help keep the Graffiti Removal Team working to remove graffiti from vandalized properties across St. Louis city.  Donations to Brightside St. Louis are tax-deductible. Select an amount below to donate online or mail us a Donation Form.
Here's how your donation can help!
$25 Buys one gallon of paint
$50 Buys stripping compound to remove graffiti from 3 vandalized homes
$100 secures brushes and rollers for 1 day
$300 buys enough paint to cover 4,800 square feet of graffiti
$500 removes graffiti from 4 vandalized homes
$1,000 keeps the Brightside team working for one day
$5,000 enables Brightside to remove graffiti from 200 brick structures
Donate Online Now