Making St. Louis a cleaner, greener, better place to live!
Dedicated to cleaning, greening St. Louis since 1982
From graffiti removal to Blitz to the daffodils that sprout their blooms all around town, Brightside St. Louis is the city's oldest and most comprehensive not-for-profit cleaning and greening group. Learn more about what we're doing to grow an even more beautiful St. Louis!
Brightside is funded through donations from individuals, companies and foundations and by a grant from HUD and the St. Louis Community Development Administration.
Featured in the Missouri Conservationist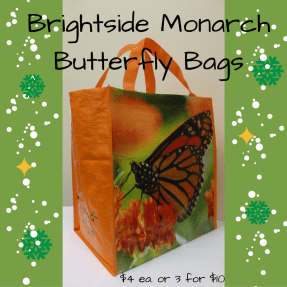 Let us help you with your holiday festivities this year.  Whether you're shopping, carrying holiday party supplies or wrapping up holiday gifts, use our one-of-a-kind, reusable Monarch Butterfly Bags.  These reusable bags are sturdy and beautiful so they make great gift bags (a gift within a gift) and are perfect for toting around holiday goodies!  Purchase yours online at www.brightsidestl.org/donate/online-store or in our office 4646 Shenandoah Ave 63110 during normal business hours.  Bags are $4 each or three for $10.  Get yours today!