Making St. Louis a cleaner, greener, better place to live!
Dedicated to cleaning, greening St. Louis since 1982
From graffiti removal to Project Blitz to the daffodils that sprout their blooms all around town, Brightside St. Louis is the city's oldest and most comprehensive not-for-profit cleaning and greening group. Learn more about what we're doing to grow an even more beautiful St. Louis!
Featured in the Missouri Conservationist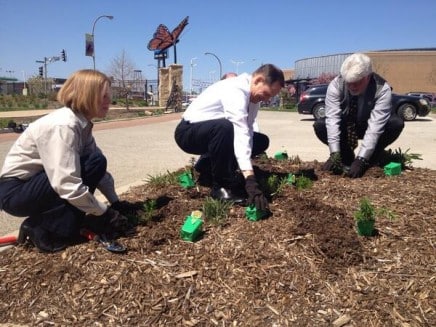 The setting could not have been more perfect for Mayor Francis G. Slay to reveal a new City sustainability initiative, Milkweeds for Monarchs.  On Earth Day, with Brightside's purple coneflowers and giant Monarch gleaming in the background, Mayor Slay, along with representatives from the Missouri Botanical Garden, Saint Louis Zoo, and Missouri Department of Conservation announced the City's goal to "increase the dwindling Monarch butterfly population and better connect people with nature."