Through our greening projects, we're making St. Louis a greener place to call home.
Mirroring our dedication to cleaning St. Louis, we have the same devotion to greening St. Louis, making it a greener, more beautiful place to live.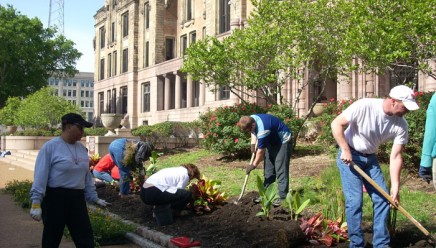 Greening Projects
Perhaps most noted for our Highway Daffodil plantings, a program that trumpets the return of springtime in St. Louis, there are several other Brightside greening projects in St. Louis City. They include the following:
Through our Demo Garden, we provide an interactive learning experience for sustainable gardening and urban conservation practices in St. Louis. Visit our garden to see examples of sustainable gardening you can put into practice in your own yard. You won't want to miss the native Missouri plants!
Brighten up the downtown area with beautiful flowers! Each year, Brightside staff and volunteers add greenery around St. Louis City Hall, along Market Street and Tucker Boulevard. This annual event is in conjunction with the City Parks Department.
The Blitz Blooms program engages volunteers in planting more than 200,000 annuals throughout the city each May. We provide the seedlings, and volunteers plant them around St. Louis neighborhoods.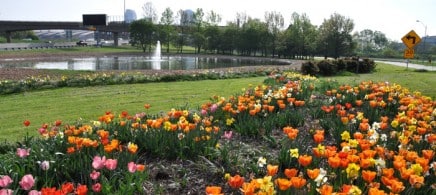 Apply for a Neighbors Naturescaping project in your neighborhood, and we'll provide what you need to get it done. That includes native plants, tools and hardscape for your greening project.
In partnership with the St. Louis Audubon Society, we're working to create a mosaic of small, private habitats for birds, butterflies and other animals throughout the city. These small-scale habitats will help reverse the population decline of many species and inspire families with nature encounters at home.
The goal of our greening projects is to create a beautiful, natural and green city that we can all enjoy. Will you help us make our vision a reality? See how you can get involved.