Naturescaping is a method of sustainable landscaping that incorporates native plants and flowers, working to build a greener and more sustainable city. Through the Neighbors Naturescaping program, Brightside offers supplies and tools to St. Louis groups interested in a naturescaping project in St. Louis. Plant a native garden to cheer up a public space in your neighborhood!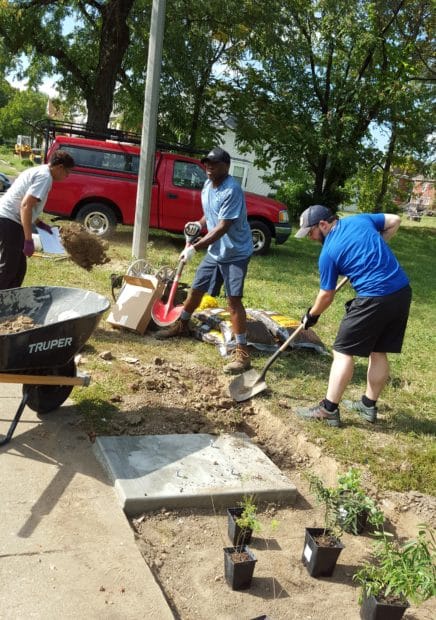 What are the benefits of Neighbors Naturescaping?
Beautify a public or not-for-profit space in your neighborhood
Restore Missouri native plant communities
Attract beneficial wildlife, such as butterflies, bees and birds
Reduce stormwater runoff and protect our drinking water
Submit Your Naturescaping Project
Ready to take that next step to beautify your city neighborhood? Consider a Neighbors Naturescaping greening project with Brightside St. Louis to improve public spaces in your area.
The details below are specific to 2022, but check back in Spring of 2023 for updated information!
To learn more, download the Neighbors Naturescaping 2022 Flyer or contact us. Learn more about the 2022 grant round at our Neighbors Naturescaping Kick-Off Meeting May 12th.
Your Neighbors Naturescaping project can be in any public space in St. Louis City, including medians, neighborhood entrances, parks, street barricades, tree lawns, vacant LRA lots and other public spaces and nonprofits approved by Brightside.
Projects selected for implementation will be provided with plants, tools and hardscape, as requested in their application and approved by the Selection Committee. No cash awards will be given.
2022 Application Details!
Want to apply for a project this year? Application packets for 2022 projects will be made available to those who RSVP to participate in the Kick-off Meeting on Thursday, May 12th. If you miss the kick-off event and are still interested in applying, please contact Brightside directly.
As groups prepare their proposal, we recommend planning a visit to our Demonstration Garden to see the recommended plants in person and to learn about which plants are appropriate for their proposed planting location.
Attend the 2022 St. Louis Urban Gardening Symposium
To help prepare for a neighborhood greening project, groups are also encouraged to participate the 2022 St. Louis Urban Gardening Symposium (Registration open!). We're pleased to have special presentations by Gerardo Camilo, Ph.D., Biology professor at Saint Louis University and Scott Woodbury, Horticulture Manager at Missouri Botanical Garden's Shaw Nature Reserve! This annual event offers a special educational presentation to help groups successfully develop and properly care for a neighborhood garden.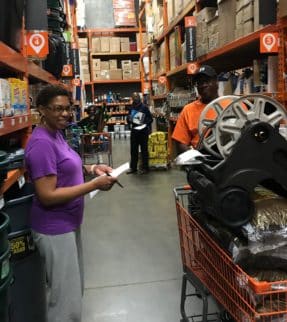 Neighbors Naturescaping is made possible by our wonderful sponsors.