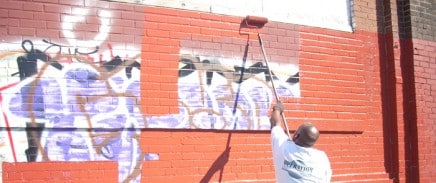 Graffiti is a form of vandalism that detracts from the overall appearance of our community. By eradicating graffiti, we can preserve our neighborhoods and protect property values. If you're looking for graffiti removal in St. Louis, Brightside can help.
Our Graffiti Program
The Brightside graffiti eradication team removes graffiti quickly, professionally and at no cost to the property owner. Brightside's team has over 120 years of combined experience removing graffiti across the city and take pride in keeping communities clean and safe. Our graffiti removal program is primarily funded by a grant from HUD and the St. Louis Community Development Administration. Private donations are also raised to help increased costs of paint and other supplies.
Since offering this service, we've removed graffiti from over 200,000 vandalized homes, businesses and other structures all across our city.
The Graffiti Removal Process
The method of graffiti cleaning depends on the type of surface:
Graffiti on an unpainted brick or concrete surface: a high-pressure water blaster will be used to remove the graffiti. There may be some slight discoloration of the brick, but there should be little, if any, harm to the surface.
Graffiti on a painted surface: crew members will match the paint color as closely as possible, square off the vandalized area, and paint over the graffiti.
Request Help
If you have graffiti on your property that you'd like us to remove, please read and complete the graffiti consent form and send it to our Brightside St. Louis office or email it to us at your earliest convenience. 
Report Graffiti
You can also report graffiti on private and public property, dumpsters, trees and signs. Contact the Citizens' Service Bureau at 314-622-4800 or by submitting information on their website.
Tips to Prevent Graffiti
Simply keeping your property clean, tidy and well lit at night can help deter vandals. Most importantly, remove graffiti as soon as possible by using a matching paint or request help through Brightside. If a vandal is unable to keep their "art" visible, they will not want to return. For more tips on how to keep your property safe from graffiti download and share this handout with your neighborhood.