Buy Flowers and Goods
Everybody loves the beautiful blooms of Springtime in St. Louis! Daffodils and brightly-colored tulips make any garden more beautiful. Brightside flowers can brighten your garden and make St. Louis neighborhoods more livable and downtown more vibrant as proceeds support Brightside's cleaning and greening initiatives.
**The Blooming Soon! Bulb Sale Will Return Summer of 2023**
Be sure to check back in summer 2023 to see our selection and order your bulbs online!
Monarch Butterfly Bags
Support cleaning and greening in St. Louis by purchasing these one-of-a-kind Monarch butterfly bags. The Monarch butterfly and caterpillar feeding on milkweed were captured in photos by Perry Eckhardt and are now available to you in a 100% polypropylene tote bag.
The flat-bottomed bag is 13″ h x 11.75″ w x 8.5″ d which makes it the perfect size. Plus, the vibrant colors make this a must-have for all of your shopping and toting needs. If you're interested in purchasing a different quantity of bags, please call the Brightside office at 314-772-4646 to place your order.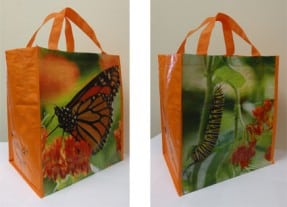 Brightside St. Louis Flower Pot Mugs — Currently Out of Stock
Support the beautification of St. Louis by purchasing a Brightside flower pot mug. Perfect for that morning cup of coffee or an afternoon tea. Guaranteed to brighten your day!
Mugs are available at a price of $20 for 4 mugs. You can stop by Brightside's office (4646 Shenandoah Avenue) during normal business hours to pick up your mugs at no additional cost or have them shipped to you. If you'd like to purchase mugs in individual quantities ($6 each or 2 for $10), please call the Brightside office at 314-772-4646 to place your order.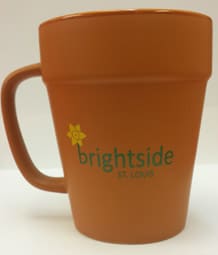 Order Your Bags and Mugs Now