St. Louis grows older; Brightside celebrates with Cakeway to the West
Brightside St. Louis is proud to announce our involvement in the city's 250th birthday celebration. We were voted to participate in the Cakeway to the West, an event described as 'one part public art exhibit, one part scavenger hunt and one part history lesson – all adding up to a year's worth of fun exploring St. Louis!'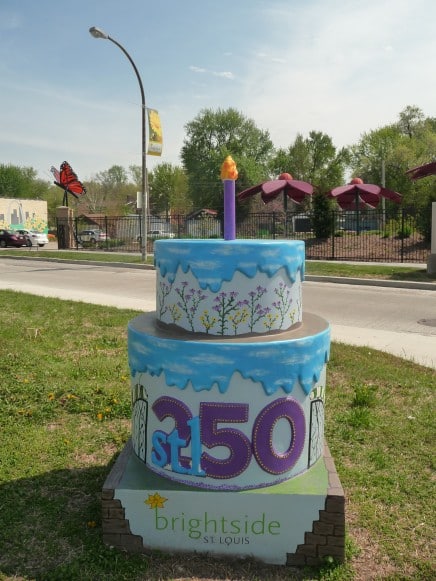 The stl250 organization selected 200 locations to mark with a four-feet-tall, two-tier decorative birthday cake. Another 50 were selected through a public vote. Brightside was announced as a winner in January.
"We are very excited to be a part of this historical celebration of St. Louis, and invite everyone to come see our cake and explore our Demonstration Garden" said Mary Lou Green, our executive director.  "We are honored to have been chosen and proud that our cake was decorated by our friend and long-time volunteer, George Grove, who incorporated Brightside's signature daffodils and features from our Demo Garden into his design."
The Brightside cake took residence at the entrance to Shenandoah and Kingshighway for maximum enjoyment to the community. After each cake is installed the stl250 organization will release a social media app that allows community members to read facts about each location, give cake hunters a chance to share a picture and 'check in' for a sweepstakes featuring great St. Louis prizes.
Brightside is so thankful to have been chosen to be apart of this event. We hope with the help of our community we can make St. Louis beautiful for another 250 years.