Walking on Broken Glass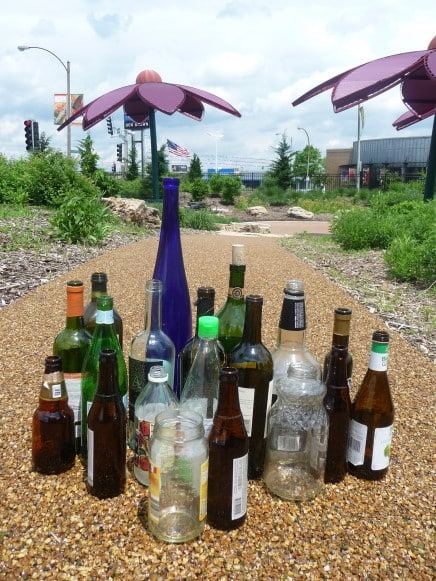 Brightside's garden is sporting some new bling this summer.  That's right, the garden has a sparkly and colorful new accessory that is the envy of all nearby gardens.  Drumroll please….it's Filterpave, a permeable pavement pathway that winds through the garden and is made from recycled glass and crushed river rock.
Each square foot of path includes 18 recycled bottles that have been broken into small pieces, giving the path its shimmery appearance.  Don't worry though, the glass has been tumbled to dull any sharp edges.
The crushed glass and rock are held together by a plant-based polymer which maintains voids between the pieces, allowing water to flow through the pavement and infiltrate into the ground, reducing storm water runoff during rain events.  Approximately 16,500 recycled glass bottles are now living a new life in our garden pathway, keeping valuable resources out of the landfill and reducing the need to extract raw materials from the earth.
Brightside's garden is the first location in the St. Louis region to feature this type of pavement, our goal is to show homeowners and community leaders the different options for paved surfaces so they consider using permeable pavement in their own home and neighborhood projects.