Boost Your Gift on #GiveSTLDay
This event has passed. Be sure to check out our upcoming events.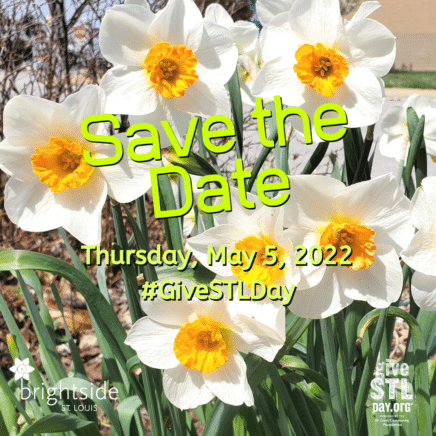 _____________________________________________
THANK YOU for planning your donation to Brightside on #GiveSTLDay – Thursday, May 5th!
______________________________________________
No matter the size, your #GiveSTLDay donation can have an even greater impact when you donate during specific time frames. Boost your gift during various Power Hours throughout #GiveSTLDay.
We are excited and grateful for the generosity of the William A. Kerr Foundation for matching every dollar donated up to $5,000 on #GiveSTLDay!
Together, we can reach our 40th anniversary goals:
Complete 400 neighborhood clean-ups
Engage 4,000 volunteers
Plant 40,000 daffodils
Plant 40,000 marigolds
Plant 40,000 dianthus
Plant 40,000 celosia
Remove 40,000 sf of graffiti
POWER HOURS
When you donate online through #GiveSTLDay during a "Power Hour," your gift is lifted as Brightside will receive a portion of a $20,000 hourly prize pool!! The Power Hour times for #GiveSTLDay are:
6 a.m. – 7 a.m.
9 a.m. – 10 a.m.
12 p.m. – 1 p.m.
3 p.m. – 4 p.m.
6 p.m. – 7 p.m.
10 p.m. – 11 p.m.
Make your dollars go even further by donating to Brightside during a Power Hour at GiveSTLDay.org/BrightsideSTL.
Donations to Brightside are tax-deductible.
Our efforts would not be possible without the generous support from friends like you. Learn more about all of Brightside's programs at BrightsideSTL.org. Learn more about #GiveSTLDay and the prizes available for donors throughout the day at GiveSTLDay.org.
Please remember to donate to Brightside, and your other favorite St. Louis nonprofits, on #GiveSTLDay, Thursday, May 5th!