New trees in the Brightside St. Louis Demonstration Garden
And we're excited about them!
On November 3rd, five SLU students and members of the service fraternity Alpha Phi Omega worked with Mark Grueber and our very own Mary Lou to plant trees in the Silva Cells in front of our building. They loved being a part of this historic project. GO APO!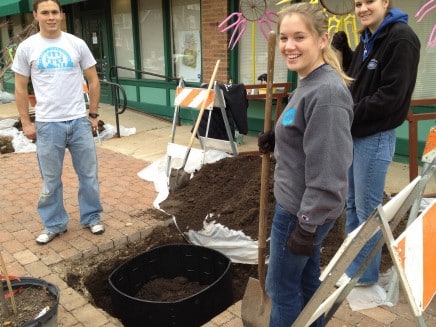 In case you're unfamiliar with the Silva Cell planting process, Deep Root root guides are placed around a tree's root ball to direct the roots into the Silva Cell modular blocks which are filled with soil. This enables the trees to get the moisture and oxygen that they need to live for decades without buckling sidwalks. After all, a large street tree is the best urban stormwater management tool. This is the first silva cell project in all of Missouri under a porous surface.
A special thanks to Mike Rood at Pea Ridge Forest in Hermann for the great Shawnee Brave Baldcypress trees. The Shawnee Brave, with its columnar growth habit, is perfect for planting in our new sidewalk plaza. Thanks to EPA Region 7 and the Missouri Department of Natural Resources for making this Silva Cell project possible with funding provided through Section 319 of the Clean Water Act. A special thanks to Valerie Hentges for believing in this project and to Perry Eckhardt and Mark Grueber for being the inspiration behind installing silva cells at Brightside in the first place.
And special thanks to Mike Walsh and Forest ReLeaf of Missouri for donating even more trees to Brightside St. Louis. What a great partner! Thanks to Forest ReLeaf, we now have 7 more trees — four baldcypress and three redbuds — to provide shade, stormwater management and carbon sequestration.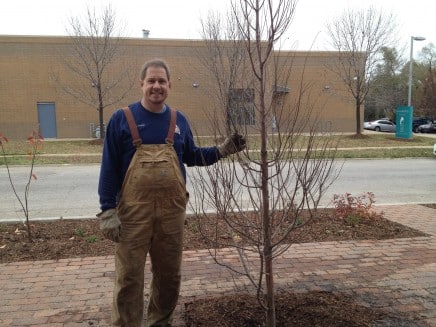 Thanks to Mark Grueber, Community Forester with the Missouri Department of Conservation, we also have a new Post Oak tree in our Woodland area in our Demo Garden. Another 20 years and we will have lots of shade from the tree Mark grew from an acorn.