Mingle with Young Friends of Brightside at the Kickoff Garden Party
This event has passed. Be sure to check out our upcoming events.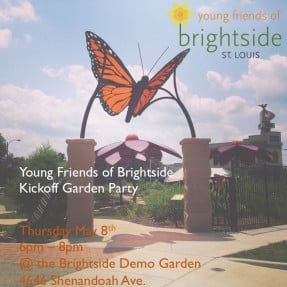 St. Louis is more vibrant and younger than ever before. Makes perfect sense for our city's young professionals to get in on the action and so we've founded the Young Friends of Brightside.  Join us as we make our city a cleaner, greener, better place to live.
On Thursday, May 8th, the Young Friends of Brightside are hosting a Kickoff Garden Party to show off the efforts of Brightside and recruit young professionals to become members of our new Young Friends group.
Stop by and enjoy the weather over beverages proudly donated by Anheuser-Busch and appetizers courtesy of Franco. Checkout Brightside's work through a tour of the Demo Garden and learn more about becoming a member of the Young Friends of Brightside. And don't forget to enter our highly-caffeinated Starbucks gift card giveaway.
Details:
The Young Friends of Brightside Kickoff Garden Party Thursday, May 8th, 6pm – 8pm The Brightside Demonstration Garden 4646 Shenandoah Ave. St. Louis, MO 63110