Neighborhood Beautification Projects Get the Green Light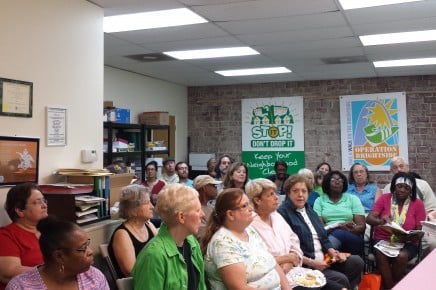 Community groups gathered for a small awards ceremony at Brightside St. Louis last week, hoping their proposed neighborhood greening projects would be selected for the 2014 Neighbors Naturescaping program. Now in its 19th year, Brightside's Neighbors Naturescaping program offers an opportunity for neighborhood organizations throughout St. Louis city to apply for resources to establish or enhance community gardens in public spaces.
This year, with the generous support of several organizations, including Employees Community Fund of Boeing St. Louis, Philpott Family Foundation, Forest ReLeaf of Missouri and Peabody Energy, Brightside was able to approve 32 greening projects. The projects range from small butterfly gardens to spacious neighborhood gardens that will be planted with Missouri native (or cultivars of native) plants, grasses, shrubs and trees.
Now that the projects have been announced, neighborhood volunteers will begin preparing their gardens for planting.  On September 17th and 25th groups that requested supplies, such as shovels, rakes, hoses, mulch, etc. will meet Brightside staff to go shopping for the items they were approved to purchase.
Once armed with the tools and supplies they need, volunteers will prepare their garden beds in anticipation of plant distribution days. On October 10th and 11th, groups will gather their requested plants from the Greenhouse in Forest Park and begin transforming their project sites into beautiful community assets. Because of the thoughtful contributions of the 2014 sponsors, volunteers will have the tools and plants they need to bring positive changes to neighborhoods across St. Louis.
Individuals interested in getting involved in a Neighbors Naturescaping project in their community can contact project groups directly or call Brightside St. Louis at 314-772-4646. Learn more about Neighbors Naturescaping.
2014 Neighbors Naturescaping Community Groups:
– Bevo Gardens
– Block Unit 127
– Block Units 1706B & 33B
– Central Reform Congregation
– Cote Brilliante Community Garden
– Dogtown Ecovillage
– Fairgrounds Neighborhood Revitalization Organization
– Friends of Clifton Park
– Friends of Francis Park
– Friends of Hamilton Village
– Greater Ville Neighborhood Preservation Commission
– Hamilton Elementary Panthers
– Hope United Church of Christ / Hopemark Preschool
– Humanity First Sadiq Garden
– Old North St. Louis Restoration Group / Hybrid Urban Bioscapes
– Kingsway East Conservation Association
– Lafayette Square Beautification Committee
– Lilian Circle Neighborhood Association Inc.
– Lindenwood Park Neighborhood Association
– Mallinckrodt Community Garden
– Marine Villa Neighborhood Association & Chippewa Broadway Business Association
– Mission St. Louis
– Nottingham Community Access Job Training High School
– Shaw Neighborhood Improvement Association
– Shaw Place Association
– Soulard Restoration Group Beautification Committee
– Southampton Neighborhood Association
– Southwest Garden Neighborhood Association
– St. Gabriel Community Garden
– St. Louis Activity Center
– Walbridge Community Education Center
One response to "Neighborhood Beautification Projects Get the Green Light"