CANCELLED – Volunteers Needed to Help Plant Daffodils
This event has passed. Be sure to check out our upcoming events.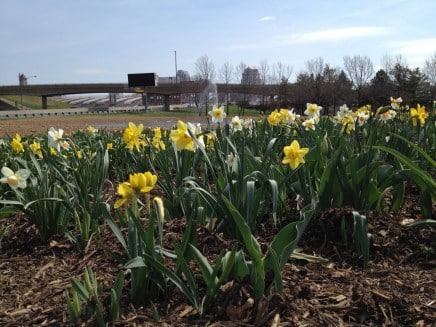 DUE TO HEAVY RAINS AND MUDDY CONDITIONS, WE HAVE CANCELLED THIS EVENT.
Have you seen the thousands of daffodils that blanket the landscape along St. Louis highways and thoroughfares each spring?  For many St. Louisans it's a much anticipated sight to see.  Not only are the bright yellow blooms a beautiful contrast to the dull winter scene, but they also remind us that the cold days of winter are nearing an end.
This year, Brightside needs your help to reach our goal of planting 25,000 daffodil bulbs.  Each daffodil we plant contributes to the spread of springtime cheer.  Please join us on Saturday, December 6th from 9:00 a.m. to 12:00 p.m. for a fun morning of planting.
Individuals and groups are welcome, so gather your friends, family or coworkers to take part in this annual event.  Coffee, water and snacks will be provided.
Please register here
What:  Volunteer Opportunity – Daffodil Planting When:  Saturday, December 6th, 2014 from 9:00am-12:00pm Where:  The Gardens at Lake Louie, located along I-64 East at the Chestnut/20th Street exit. Map it:   
http://tinyurl.com/oucvt6m
Special Instructions:  Volunteers may park in the grass along the south side of the exit lane.