Join Brightside on Nextdoor!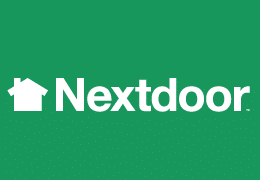 What is Nextdoor?  You may have heard about it, received postcards inviting you to join, seen people perusing it on their smartphones, or maybe you're already a member and know what it's all about.  For those of you already using Nextdoor, you know how great it is for communicating with your neighbors.
At Brightside, we think Nextdoor will help St. Louis build stronger and safer neighborhoods, which is why we recently joined this rapidly growing community network.  We welcome you to join too!
Nextdoor is a private social network that makes it easy to talk with neighbors who you might not otherwise have a chance to meet.  Nextdoor requires each member to verify their address to prove that they live where they say they live.  This way you know you're really talking with people who live near you.  Keeping the conversations local helps neighbors share information that impacts them where they live.   Plus, it's easy to stay informed, even when you're away from home.  Using Nextdoor's mobil app, you can check in from your smartphone or tablet anytime, anywhere.
Some of the most common things people are using Nextdoor for include:
Sharing news about a local event or activity
Getting recommendations for trustworthy and affordable home repair services
Offering your skills or services to others, such as, handyman services, clothing alterations, babysitting or dog walking
Keeping an eye out for lost pets or reporting animal sightings
Finding a new home for unwanted items
Voicing concerns about recent crime
Helping each other look out for suspicious behavior
Recruiting volunteers to help with a neighborhood event
Take advantage of this great tool and find out what's happening in your neighborhood.  Simply go to www.nextdoor.com to sign up.  Once your address is verified, you'll be able to see what your neighbors are talking about, join in the conversations and even start your own thread.