Neighbors Naturescaping Kick-off Meeting
This event has passed. Be sure to check out our upcoming events.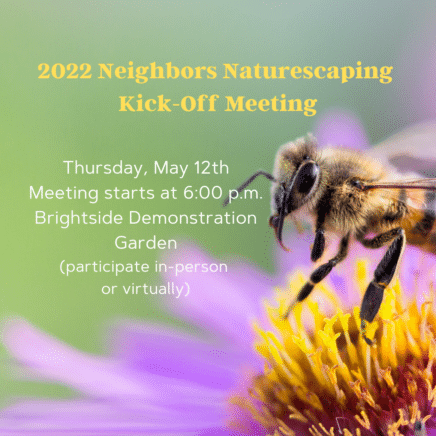 Join us on Thursday, May 12th at Brightside starting at 6:00 p.m.
You can participate in person at the Brightside Demonstration Garden (social distancing practices will be followed) or, if you prefer, you can participate virtually through Zoom.
At this meeting, you will learn how your neighborhood group can apply for a Neighbors Naturescaping project to beautify public spaces in your community.
The meeting will cover an overview of the Neighbors Naturescaping application process, requirements and judging criteria.
RSVP
by filling out your information
here
or by calling the Brightside Office at (314) 772-4646.
Neighbors Naturescaping is a program offered by Brightside to help neighborhood groups enhance their community by planting native gardens in public spaces. Eligible groups include neighborhood associations, community groups, block units, nonprofits and school groups located in St. Louis city.
Kick-off Meeting
When: Thursday, May 12th at 6:00 p.m.
Where: Virtually (via Zoom) or in-person at the Brightside Demonstration Garden
RSVP by filling out your information here or by contacting Elysia at the Brightside Office at (314) 772-4646 or via email at elysia@brightsidestl.org
3 responses to "Neighbors Naturescaping Kick-off Meeting"