Unstash That Trash!
This event has passed. Be sure to check out our upcoming events.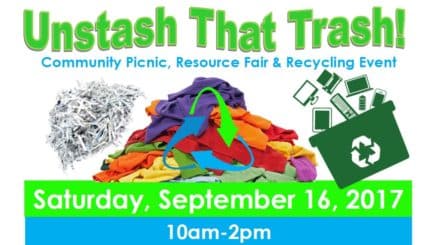 Free Electronics Recycling!
Free on-Site Paper Shredding!
Free Hard Drive Destruction!
Free Medicine Disposal!
Free Clothing Recycling!
Free Community Resource Fair!
Bring an item to recycle and get a FREE LUNCH!
The event encourages responsible recycling and waste management in under-served communities. Participants are encouraged to bring recyclables, including electronics, clothing and shoes, expired/unused medications and batteries. Paper shredding and computer hard drive destruction will be offered on-site. Participants of all ages can engage in hands-on activities, art projects, games and tour the LEED certified William J. Harrison Community Education Center.
St. Louis City residents can make on-site service requests for trash and debris removal. All services are free and includes a chance to win attendance prizes and a free lunch to participants that bring at least one item to recycle. Funding for this event is provided, in part, by Enterprise Community Partners and The Truitt Law
Firm, LLC.
Check, "Going," on the Facebook event page and share with your family and friends!