Learn About Native Gardening at SLUGS!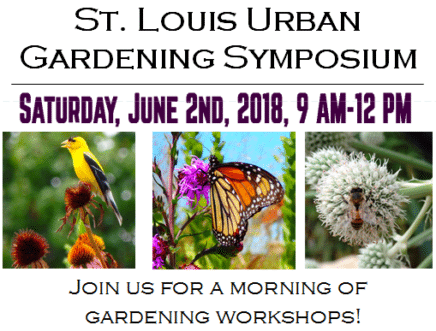 The 2018 St. Louis Urban Gardening Symposium (SLUGS) will feature a full morning of native gardening workshops and will be held on Saturday, June 2nd in Brightside's Demonstration Garden.  Participants will learn about the benefits of incorporating native plants into their outdoor spaces, including providing habitat for pollinators and other beneficial wildlife.
The symposium will feature a series of 50-minute workshops led by experts in their respective fields to help gardeners learn how to plan, plant and care for a neighborhood or home garden.  Check-in begins at 8:30 a.m. and workshops begin at 9:00 a.m.
Location: Brightside's demonstration garden – 4646 Shenandoah Ave. St. Louis, MO 63110
Cost:  Only $15 per person.  The fee will be waived for St. Louis city residents who qualify as Neighbors Naturescaping participants.
Register:  Complete registration here.  Neighbors Naturescaping participants, please use this link to register.
Learn more by downloading the SLUGS 2018 flyer.