Community Planting Day
This event has passed. Be sure to check out our upcoming events.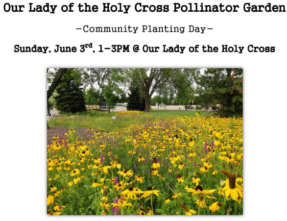 Join us for a community planting day at Our Lady of the Holy Cross Pollinator Garden and support our local pollinators.  Help beautify the church grounds with blooming wildflowers and learn about native plant gardening.
Sunday, June 3rd from 1-3pM
Gloves and tools provided
No experience necessary
Refreshments provided
Download the event flyer to share with all the details.
To learn more visit: www.brightsidestl.org/pollinator-conservation
Questions? Contact Neslon Curran at nelson.curran@mobot.org or 314-956-5738