Sassafras tree blooming in the Brightside demonstration garden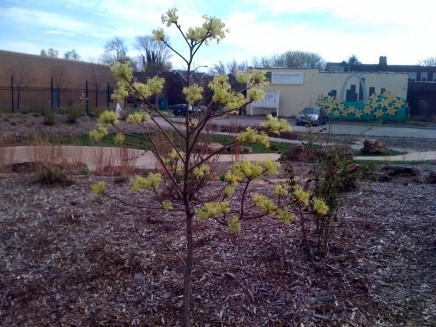 Our little sassafras tree is blooming in the demonstration garden. This all-season tree has clusters of small yellow flowers that nearly cover the tree in early spring. In the fall, colors change to deep orange, scarlet and purple. The sassafras tree is a host plant for many moths and butterflies.
According to the Fifty Common Trees of Missouri, from our friends over at the Missouri Department of Conservation, this tree is a fast grower and will grow up to 60 feet tall. Typically, the sassafras tree is found on the borders of dry woods, glades, prairies, and in bottomland soils in valleys. Additionally, they're found along roadsides, railroads, idle fields, pastures, fencerows and thickets.
The roots were once used to brew a popular tea – sassafras tea. However, the oil found in the tree – safrole – has been found to be carcinogenic, and thus, in 1976 the U.S. Food and Drug Administration banned the oil for commercial sale and advised the public to stop drinking the tea.