It's Not Too Late!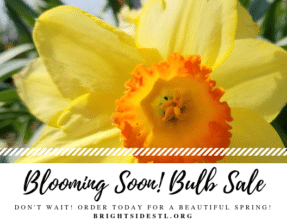 Call Brightside at (314) 772-4646 to see what flowers we have left for sale!  Now is the perfect time for planting.
Rave reviews brought back the "Brightside Red" Hybrid Darwin tulip!  We are also bringing back an old fan favorite — Daydream Hybrid Darwin Tulips.  These vibrant tulips are a must-have among your spring blooms
Give your garden even more pops of color with the classic Carlton daffodils and our exclusive "Midwest Mix" of daffodils which includes a variety of six daffodils selected for Brightside by the Greater St. Louis Daffodil Society.
Remember, Brightside flowers are the gift that keeps on giving!  Not only do they enhance your yard and neighborhood year after year, the proceeds also support Brightside's cleaning and greening initiatives which make our entire city more beautiful and livable.  Order yours today!